CURRENTLY TEACHING TRACKING AND NOSEWORK CLASSES IN VALLEJO/BENECIA. CALL IF YOU'RE INTERESTED 707-373-9163
I HAVE A GOOD AMOUNT OF EXPERIENCE WITH BAT TRAINING (behavioral adjustment training) FOR FEARFUL AND REACTIVE DOGS.
I TRAIN DOGS PRIMARILY OFF LEASH FIRST AND INSTILL IN THEM A DESIRE TO BE WITH THE OWNER AND WANT TO WORK. ALWAYS WORK WITH THEIR DRIVES AND WILL ALSO USE CLICKER TRAINING.

For me training a dog has to be fun or at least a pleasant experience for both, dog and handler.
I always try to adjust to the individual temperament of the dog. Some dogs love to work for treats, others for play, some for affection and others for a combination or just love being with you and/or working.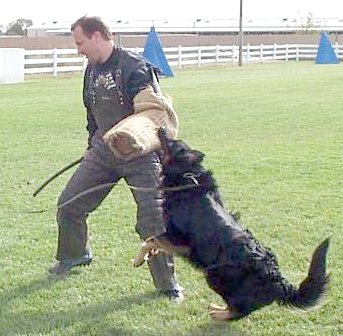 CREDENTIALS
Search&Rescue:
trained 4 different dogs to Mission Ready status in different specialties: Wilderness, Disaster, Water and Cadaver searching, and FEMA certified 3 of them.
Been trainings advisor for local groups several years and helped train numerous dogs to Mission Ready status.
Have participated with my dogs in about 150 different searches while being a member of S&R for about 10 years.
SEMINARS I ATTENDED INCLUDE:
KAREN PRYOR
JOAN PLUMB
STEVE WHITE
HANS JUERGEN FREITAG
DENISE FENZI

and many many more
BAT
Study and teach BAT "Behavioral Adjustment Training" to people to help with their dogs fear and/or aggression.
This is an amazing concept with great success.

Allessa and Chara waiting for further action!
Schutzhund:
trained three of my dogs to highest level (SCH3) and/or highest level in tracking (FH2)
Almost all of this training was done with motivation and positive training.
Trained and trialed several other dogs to their BH's.

Tracking:
I have 20 years of tracking experience with dogs. All different styles including AKC tracking, trailing and Schutzhund tracking. We have achieved several TD's and FH2's.
I also have been teaching classes and giving private lessons for years and have taught lots of different breeds, from Newfoundland to Dachshund.
Obedience:
Done AKC obedience competition and Schutzhund has high level obedience as part of the certification. My oldest at 10 years achieved the Rally Excellent title in six month with all passing scores.
Helped numerous owners to get the best out of their dogs and teach them how to best teach their canine pal.

Agility:
two of my dogs are currently in Agility training and one is competing at the Excellent level.
For the last 20 years I assist people in training their own dogs to be the companion they love to live with.
I am also an active member of
VDTC - Vallejo Dog Training Club
BAY TEAM - Agility Club

GSGSR - Golden Gate German Shepherd Rescue
DVG - Deutscher Verein für Gebrauchshunde
RZV - Rassezuchtverein für Hovawarte

707-373-9163
messages: 707-666-7964